Service d'arbres du quartier
passionate about trees since a young age, it is with my love for nature that i have chosen my profession. i will care for your trees with the respect and attention that they deserve. generous of my time and attentive to your needs, i will be happy to advise you!
Tree Falling-Delimbing
Whether you have dangerous trees, dead trees or trees simply needing to be pruned, we are here for you! Our experience and professionalism guarantee a job well done to meet all your expectations.
Our tree falling service allows us to remove sick and dead trees, as well as removing trees which are situated in the wrong place, such as too close to a house or power lines. Equipped with a 60-foot boom lift, we can fall your trees in a safe and efficient manner.
Our pruning service consists of cutting the dead, diseased, broken, harmful and weak branches of a tree to protect the health of the tree.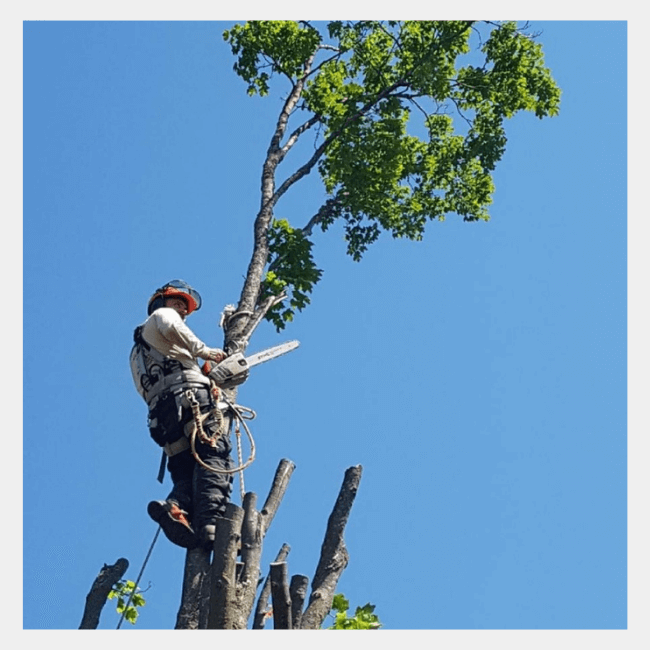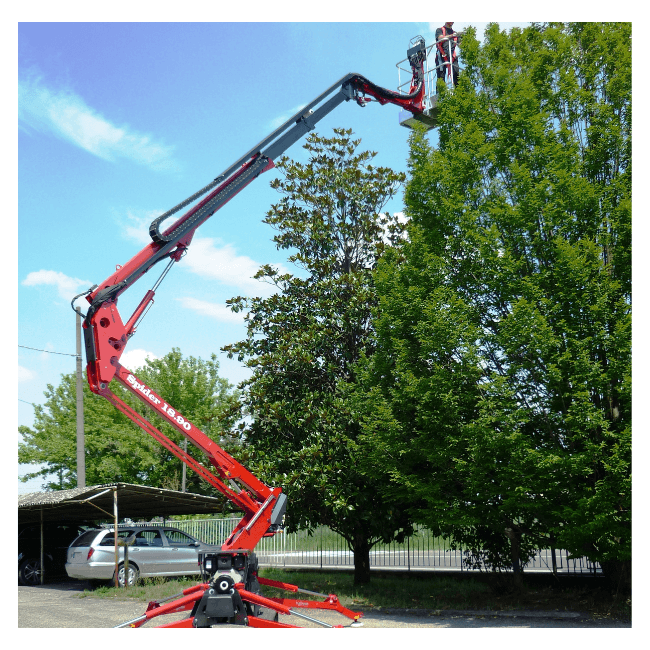 SPIDER BOOM LIFT
Our « spider » boom lift is the ultimate piece of modern equipment to better serve our clients in a safe and efficient manner. It has a remarkable working height of 60′ and able to fit through an entryway as narrow as 33″.
This tracked boom lift is a superb and versatile piece of machinery for all jobs and especially those tough to reach trees. Equipped with non-marking rubber tracks allows the boom lift to travel over driveways and pathways without leaving a mark.
The fact that this machine is self-propelled allows it to move around your property with ease, making it very efficient for us and especially our customers. 
My experience with hiring Olivier Levasseur for various tasks on my property has been very positive. The tasks, wich have included trimming a tall hedge, climbing and cutting a large tree which had fallen close to power lines, and building sturdy steps to my existing deck, were executed with professionalism and attention to detail.
Being able to communicate with Olivier in my first language has been a plus ! I am happy to have been able to recommend him to friends and neighbors, and would certainly do so again!
Susan Stutt – Sherbrooke
Stump Removal
Once your tree is cut down, we also offer our stump grinding service. Our offer includes the use of a specialized machine that destroys the stumps 3-4 inches below the ground level. We also clean the site so that you are ready to continue your landscaping projects.
It is advantageous to grind down the stump since this greatly reduces the chance of unwanted ants or termites making a home out of the stump. Removing the stump also helps avoid the possibility of poisonous mushrooms growing, especially if you have animals or young children.  Rather than waiting a decade for it to rot the results are instant! This makes it much easier to mow your lawn and esthetically improves your property.
Thank you Oliver for your efficient and appreciated service in attending to the health and maintenance of several trees on my property.
They are very important to me and my dog's happiness!
Brenda M. Parsons – Magog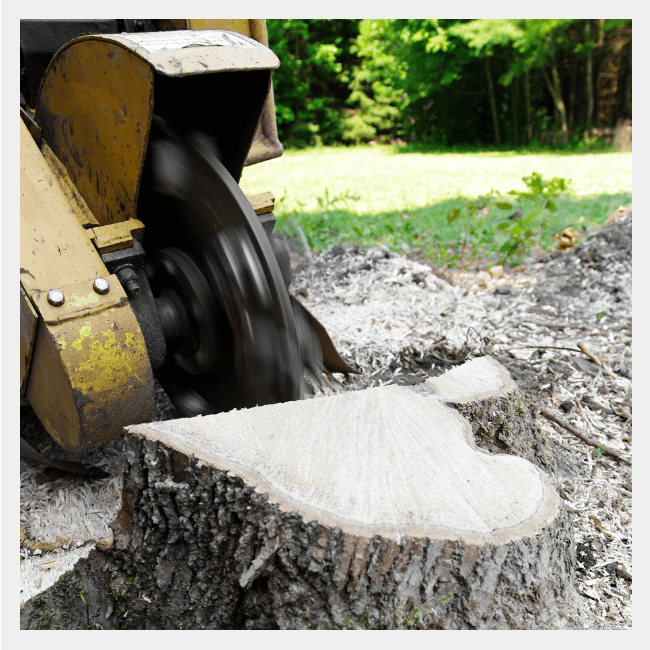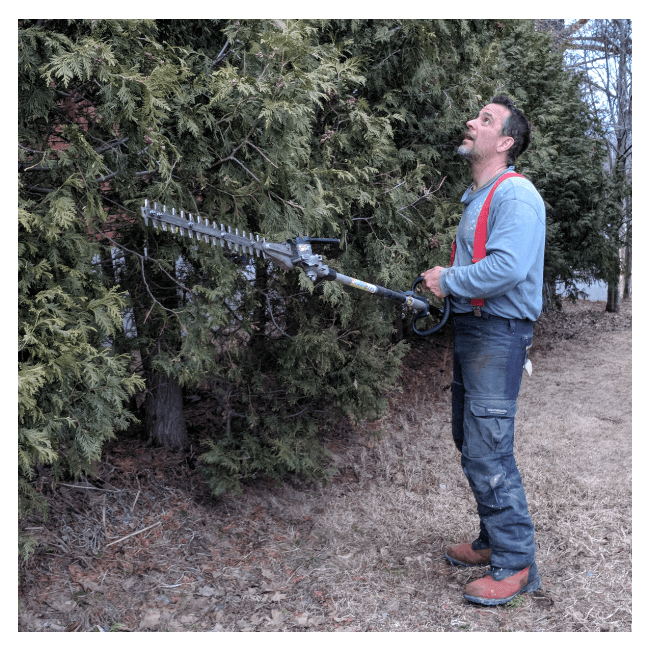 Hedge Trimming
Our hedge trimming service helps maintain and increase the density of the foliage for a green and healthy hedge.
The ideal period for pruning is between June and late September [depending on the region], because before trimming we like to wait for the new growth to be out.
Included in our service is the removal of the cedar trimmings, leaving you more time to enjoy your summer. Whatever the size of your hedge, we have the equipment and skilled labor to satisfy your needs.
I recently hired Olivier Levasseur to trim some of my trees and to perform a number of other tasks around my garden.
I found him to be diligent, thorough and very reliable. In addition to being a good worker, he has a friendly demeanour and asked many questions to establish how he could best meet my needs.
The cost of the work was very close to the estimates that he had given me beforhand with no hidden « extras ». I have no hesitation in recommending Mr. Levasseur for any work you may wish him to undertake.
Helga V. Loverseed – Orford
Selective Cutting
The process of selectively removing trees makes it possible to create more open spaces on your treed or forested  property. It is always best to keep a mixture of many tree types including hardwoods. The results of selectively removing trees will give height and depth to your treed property while allowing in more sunlight. It will also allow your trees to grow to their full potential [not only upwards as happens in dense forests] thus allowing them to become majestic!
This service can also be considered to create, within a wood-lot, a safe space for your children, or to build cleared pathways within your forest. It would be our pleasure to walk your woods with you and share our ideas to creating your enchanted forest.
So happy I found Olivier to cut and move some large trees on my property. He was professional and courteous. Highly recommended !
Mary Goyette – Lennoxville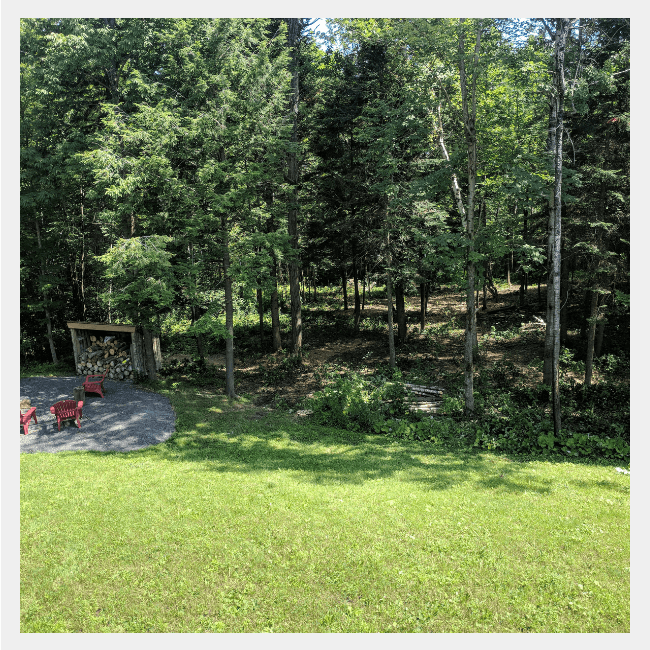 Free Estimate
Request a free quote now and we will contact you as soon as possible to schedule an appointment according to your availabilities.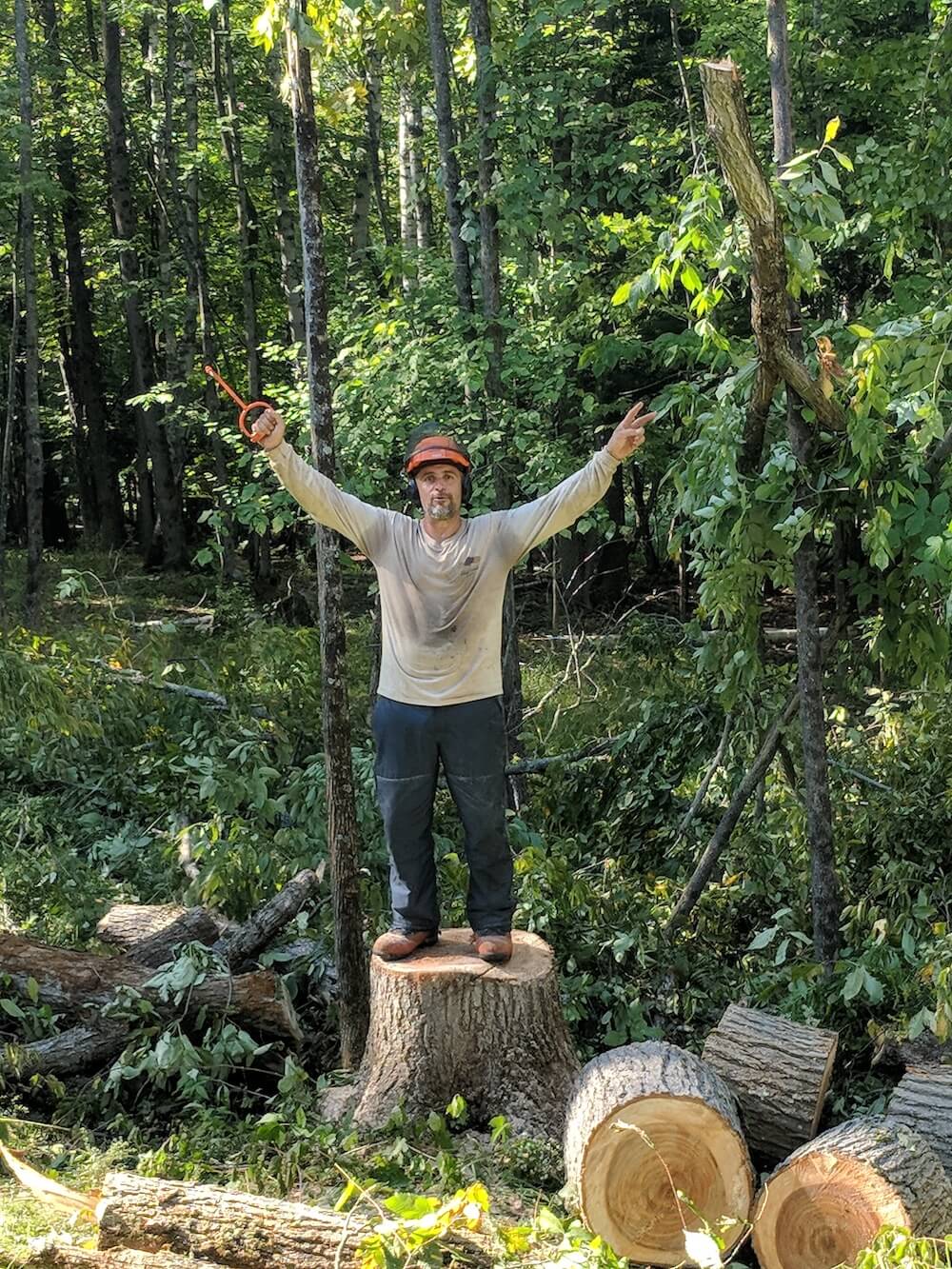 Generous of my time and attentive to your needs, I will be happy to advise you!
OLIVIER LEVASSEUR